This week's Artsy Wednesday challenge was to create a manicure inspired by a celebrity. I chose one of the most colorful celebrities ever.. Prince!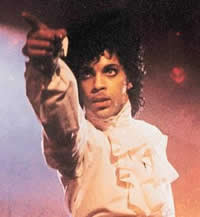 image source: threadbombing.com
Using Milani White on the Spot, Deborah Lippmann Private Dancer, Sinful Colors Dream On as well as my trusty Migi nail art pens I created this Prince-themed manicure. As you can see it is rife with Prince references.. purple rain, the unpronounceable symbol, and if you'll look at my pinky finger- This is what it looks like.. when doves cry.
I'm a big Prince fan. I love 80's music and Prince really knows how to bring the drama.
Be sure to check out the celebrity-inspired manicures from the other ladies participating in Artsy Wednesday:
Thank you so much for reading!
All the best,
Jessica
Disclosure: I purchased all products mentioned myself :o)